Capture the Glow: Art & Yoga Retreat in the Jungle
January 31- February 7, 2020
San Pancho, Nayarit, Mexico
Join Mandy Wozniak and Nicole Curcio in the jungle as we make time for art, yoga, community, beachtime and sunshine! We'll spend seven nights and seven days at Tailwind Jungle Lodge in San Pancho, Nayarit, Mexico, as we shake off the cold winter blues and Capture the Glow!
Our small retreat community will practice art and yoga together in a safe and welcoming environment. Whether you're a professional artist or yogi, or you've never picked up a paint brush, or stretched on a matt, there's sure to be something inspirational for every skill level.
The art portion of our retreat, is about making time to experiment and capturing the inspiration you'll find by unplugging and exploring new surroundings. We'll meet as a group and talk about art journaling, personal creative aspirations, and share ideas about how to get unstuck. We'll carry our sketchbooks along on our adventures and I encourage you to take notes and sketch throughout our week together. Travel journaling is a great way to document experiences and inspiration. The goal is to relax and allow yourself time to create, so you can translate your experience into new artwork at home, or have a whole journal of your sketches to remind you of your time in Mexico. Some materials will be provided for you, but a supply list will be posted as we get closer.
If you're looking for a cushy, luxury retreat, this is NOT the retreat for you, but…
If you enjoy being outdoors, close to nature and a bit of roughing it, you've come to the right place! What's roughing it in this context? Some of the casitas have compost toilets adjacent to them. There will be bugs, and lizards, and birds and critters (coati or tejon's) close by; you'll likely hear them foraging at night. Most of the casitas have at least one wall open, some are partially open on all sides, which means you can hear the ocean and jungle sounds, but it also means sleeping under mosquito nets and hearing the other jungle sounds. There is no Wifi throughout most of the lodge, but you can catch a signal by climbing many stairs up to the office. Town is a 3 mile hike, or drive away. There are dirt roads and trails and steep stairs. LOTS and Lots of stairs (your calves will get a killer workout). But there will also be amazing ocean and jungle sounds and views. A mostly secluded beach, a short 1.5 mile hike away. An outdoor yoga platform, which will also become a part time art studio, and so much more. If you're still with us, read on…
Testimonials from 2019 Guests
"So much fun to look back at these watercolors (in my sketchbook) and relive the experience. I also have photos that I may continue to paint from, so the inspiration of the retreat continues to influence my work. It was such a wonderful week. I felt like I was living someone else's life, and I loved it! It was a wonderful balance of yoga, art and adventures!"
—-Cyndi Gusler, Professor of Art
Relaxation inspires Creativity
"The retreat was a wonderful mix of relaxation and creative time. I really enjoyed the exploring the local communities and experiencing a taste of the local culture. I returned home relaxed and inspired."
- Brett Binford- co-owner Eutectic Gallery, Portland, OR
What's included?
Transportation to/from Licenciado Gustavo Díaz Ordaz International Airport in Puerto Vallarta (provided you arrive between noon- 2:00 pm on January 31 and depart after 1:00 pm on February 7)

Daily breakfast, 4 lunches, 3 dinners, prepared onsite by local Chef Alex, using fresh ingredients. We can easily accommodate dietary restrictions: vegan. gluten free, dairy free? No problem! Just let us know. The chef will prepare meals based on our needs and requests. See sample menus and foodie pics here.

Wine will be served with dinner. Other alcohol will be BYOB, and easy to acquire in town.

1-2 Daily yoga sessions

Art journaling workshops and conversation daily

Day trip to Puerto Vallarta for walking gallery tour and ocean views. (meals in PVR not included)

Transportation to/from Sayulita (once) and San Pancho (once) for dinners out and exploration (beaches, shopping, art- meals in town are not included)

Tour of Entre Amigos community center in San Pancho (optional)

A day boat trip to the Marieta Islands, with snorkeling and whale watching (the retreat is during humpback whale mating season, so whales are easy to spot all week long).
About Your Hosts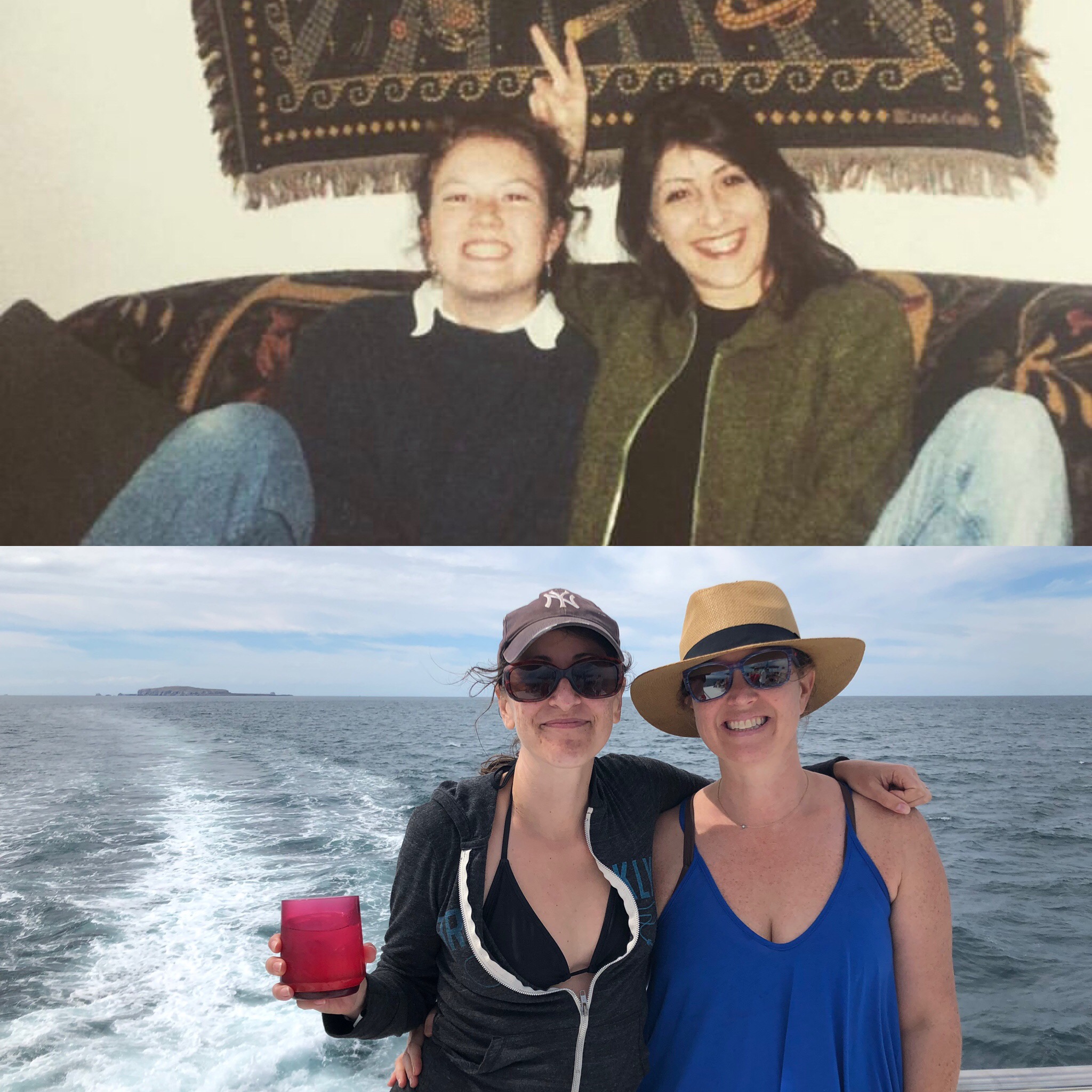 Mandy and I met in the art department our freshman year of college at Coastal Carolina University and became fast friends! Despite 20 + years and a whole country between us, we've managed to stay pals and can still make each other laugh just as much as we did in our twenties. Over the years we've chatted about ways to collaborate on creative projects together, but the distance between Charleston and Portland made it tricky. In 2018 we decided it was time to join forces to share our love of art, yoga, friendship and the community it brings, with you!
I have personally visited Tailwind Jungle Lodge a few times on my visits to San Pancho. I stayed there with my husband in 2017 and the first night, I just knew this was the perfect setting to inspire tranquility and creativity. I sat on my patio and sketched and painted the jungle plant-life. At night, I gazed at the stars, and there are oh-so-many-stars. It's truly awe-inspiring. Catch a peek into that trip here.
In January 2019, we hosted our first retreat at Tailwind and we all had a blast! We enjoyed it so much that we booked our 2020 retreat as soon as we returned to the states! We hope you'll be able join us in the jungle next January. To keep our retreat community more intimate there will only be 11 spots available (we can accommodate up to 14 for couples who want to share beds). Keep scrolling for more photos or our retreat destination and lodging options. I have no doubt you'll feel as inspired there as we did. If you have questions about anything at all, don't hesitate to call or email me!
Mandy Wozniak
Mandy has been teaching yoga in Charleston for more than 15 years. She incorporates play and fun into her classes, which are open to all levels. Having trained in Integral and Anusara yoga, she enjoys combining many disciplines and also finds inspiration from nature, physical therapy and the body itself, to create her class structure.
After several years of practice and teaching yoga, she now offers Thai Yoga Bodywork, a practice that pulls from yoga, massage, Ayurveda and Chinese medicine, to release muscle tension, provide a greater range of motion and leave the recipient relaxed. The receiver lies on a mat, fully clothed and is stretched, rocked and gently moved in ways that best benefit the body on a very individual level.
Nicole M Curcio
Based in Portland, OR, Nicole is a painter and ceramic artist who is always experimenting with new materials and ideas. She's combined her experience in art, marketing, events planning and hospitality to create events that connect us with nature and inspire creativity- like this one!
She works in paint, clay and mixed media, is currently captivated by cityscapes and landscapes and the relationships their inhabitants have with their surroundings. She's exhibited her work at galleries, cafes, art festivals and other public spaces in and around the Pacific Northwest.
Nicole finds inspiration for her artwork in travel; she always carries a sketch book and journal to capture ideas. She's visited San Pancho, Sayulita and Puerto Vallarta several times, always making time to paint from rooftops or patios with a view.
Sample Itinerary
This is a sample itinerary- days of activities will be subject to change. More details as we get closer.
Day One: welcome to the jungle! Arrival, orientation, evening yoga and welcome dinner, made fresh onsite by Chef Alex, at Tailwind Jungle Lodge.

Day Two: Morning yoga and breakfast, art journal intro and studio painting time, lunch plus free time to explore the lodge and nearby beach. Dinner (not included) and exploration in San Pancho.

Day Three: Morning yoga and breakfast, studio time, lunch. Afternoon trip to explore and dine in Sayulita (dinner not included)

Day Four: Breakfast and morning yoga. Day trip to Puerto Vallarta to explore Zona Romantica and the galleries, restaurants and views it offers. (lunch and dinner not included)

Day Five: Morning yoga and breakfast, art journal intro and studio time, lunch, plus free time to explore. Optional afternoon trip to San Pancho or Jungle hike (don't worry, it's a short 1.5 mile trek!)

Day Six: Boat tour: snorkeling, whale watching and boat trip to the Marieta Islands- breakfast, lunch and cocktails included with the boat tour. Farewell dinner prepared by Chef Alex at the jungle lodge.

Day Seven: farewell breakfast and morning yoga. Checkout at 11:00 and transportation back to the airport.
About Tailwind Jungle Lodge
Perched amidst majestically swaying palm trees, Tailwind is a sustainable jungle lodge, retreat center and adventure tour company on the Mexican Pacific. Our motto? Enjoy life! The lodge's creatively designed, tree-house like bungalows, palapas and casitas are nestled amidst 5 acres of truly stunning jungle ridges descending to breathtaking beaches of white sand. The lodge is located on a spectacular coastline, just north of the charming town of San Pancho (official name, San Francisco) in the state of Nayarit, Mexico.
Lodging
While Tailwind offers many of the comforts of home, this is more of a "glamping" style lodging than a resort or hotel. There will be stairs, and bugs, but there will also be star-gazing, bird watching, and ocean/jungle sounds! Rooms will be assigned on first come, first served basis. Select your room after the deposit has been paid. Invite a friend, or be open to making a new friend; most lodging is shared.
Single Rooms (2 available)
Each Palapa includes a queen bed, private bathroom/shower with a shared common space.

Palapa Gecko is for the true adventurer! The palapa is mostly open on all four sides, and you'll be able to hear the jungle critters foraging at night. $2,250 ---> Gecko Video
Palapa Tigre is a more enclosed room, but it shares space with the kitchen where our meals will be prepared, and is beside the community table where our group will spend time eating, drawing and chatting. 2,300
Double Rooms:(4 shared rooms available)
Casita Tejone - The bathroom is below the casita with a composting toilet. It does have a shower, kitchen and small dining area.

one full bed upstairs or two twins for close friends (Save $250/each if you book upstairs as a pair. Note: accessed by climbing a ladder on the extior of the casita) $2,250 Upstairs Video
two twin beds downstairs. $2,100 each
Downstairs Video
Palapa Parota

BOOKED

- two twin beds, composting toilets (beside the Palapa), outdoor shower & dining area, hammock. 2,200 each Link to interior video
Casita Pumita - is two floors and completely enclosed, with indoor fully functional bathroom/shower. The downstairs room has a full sized bed and a twin bed available with a shared bathroom. (Your hosts will be staying upstairs, which has it's own separate bathroom)

Full bed: $2,400
Twin bed: $2,300
Double Bungalow $2,075 per person
Bungalow Chiche is a fully furnished safari style tent on wooden platforms perched in the trees, a true glamping experience.

Two twin beds, private shower & composting toilets (below the bungalow). Hammock, kitchenette & dining area
About San Pancho
San Pancho, as the village of San Francisco, Mexico is affectionately known, has preserved its rural essence and the authenticity of a picturesque Mexican town. Here one can still enjoy the serenity and the principles of old Mexico; where people take the time to chat rather than rushing to do business. Just an hour's drive north of Puerto Vallarta airport but a world apart, San Pancho sits peacefully upon a wide palm-fringed golden beach wrapped in a lush cloak of verdant jungle. Quiet cobblestone streets provide visitors and residents a safe haven in which to wander and discover the town, with delightful restaurants close at hand to enjoy delicious refreshment. Learn more about San Pancho here.
About Sayulita
Sayulita's cultural blend of beaches, shops, restaurants, activities and smiling people makes the village the perfect destination for an "off-the-beaten-path" Mexico vacation. The picturesque fishing village of Sayulita, Nayarit, Mexico, nestled in a gentle palm tree-lined bay just 45 minutes north of the Puerto Vallarta airport, offering visitors and residents incredible beaches, lush jungles and a taste of rural Mexico in an incredibly safe environment. With cobblestone streets hosting dogs, chickens and playing children, Sayulita is a half-century away from nearby Puerto Vallarta and its huge resorts, discos and parasailing. Get an overhead view in this Sayulita Drone Video or learn more here.
Puerto Vallarta Day Trip
After breakfast our car service will transport us into the Centro neighborhood of Puerto Vallarta. This historic neighborhood has beautiful architecture, galleries, restaurants, and the Malecon walkway along the Pacific Ocean, complete with several sculptures. Wednesday is the day of the local art walk, so galleries are open late, we'll tour several galleries between arriving, lunch and dinner, plus walk on the Malecon. You can stay with the group or explore on your own. For dinner, we'll regroup at Barcelona Tapas Restaurant for delicious food and gorgeous sunset ocean views, before exploring a few more galleries and heading back to the Jungle.
Reserve Your Spot Now
With only eleven spots (12-14 if couples/friends book together) available. We expect this retreat to sell out fast! To secure your space, we require a deposit of $800 and the signed retreat agreement. The balance will be due in full by October 1, 2019. Cancellations after October 1 are non-refundable. Cancellations before October 1, will be refunded in full, less a $200 processing fee. You can pay your deposit online, but checks or Venmo are preferable.
Once you have paid your deposit, we'll send you more info about what to pack, transportation, and activities. If you have questions, dietary restrictions, or simply want to chat through this adventure with a real person, you can reach Nicole at nmcurcio@gmail.com or 503-473-7749. I'm happy to help!