I have always dreamed of visiting Europe, but instead have traveled to less expensive countries, or gone where I know people and have a free place to stay. My husband Nick and I had planned to visit Europe as our honeymoon after we were married in September 2016. As we got closer to planning our trip, his father's health was in decline and we decided to put it off until spring 2017. As spring approached we were in a car accident (my car was totaled and we needed to buy a new one) and we were also planning a belated wedding reception (ie: a bbq for close friends and family in our backyard) we realized it wasn't realistic to spend money a car, Europe AND have the party, so we decided September 2017 would be the time. Sadly, Nick's dad, Steve passed away days after our wedding celebration and his funeral service was planned in Cleveland for September 2017. We agreed that April 2018 would be a better time, but as we closed out 2018 I lucked into a great freelance opportunity that required me to be in Nashville in April, so the new plan: late summer 2018!
Our wedding day (we eloped in the backyard).
Can you see where this is going yet?
As we began to look at travel dates in between my art festivals in September, we thought late August through Labor Day weekend would be the perfect time. Turn's out Nick's step-mom also thought it would be a perfect time to get the family together for a memorial service and internment of Steve's ashes, so instead of Europe we traveled to Cleveland again. It was nice to spend time with family and celebrate Steve's life- we wouldn't have missed it for the world, so we promised ourselves, that in April 2019 we were going to Europe! At the same time we were preparing for construction of our ADU (that's a tiny Alternative Dwelling Unit for you non-Portlanders) and we started wavering on whether it made sense to take the trip, BUT we finally pulled the trigger and purchased our tickets in January deciding on an itinerary: Madrid, Lisbon, and Grenoble. After two and a half years of marriage we were finally taking our honeymoon! April 5-21, 2019 the countdown began.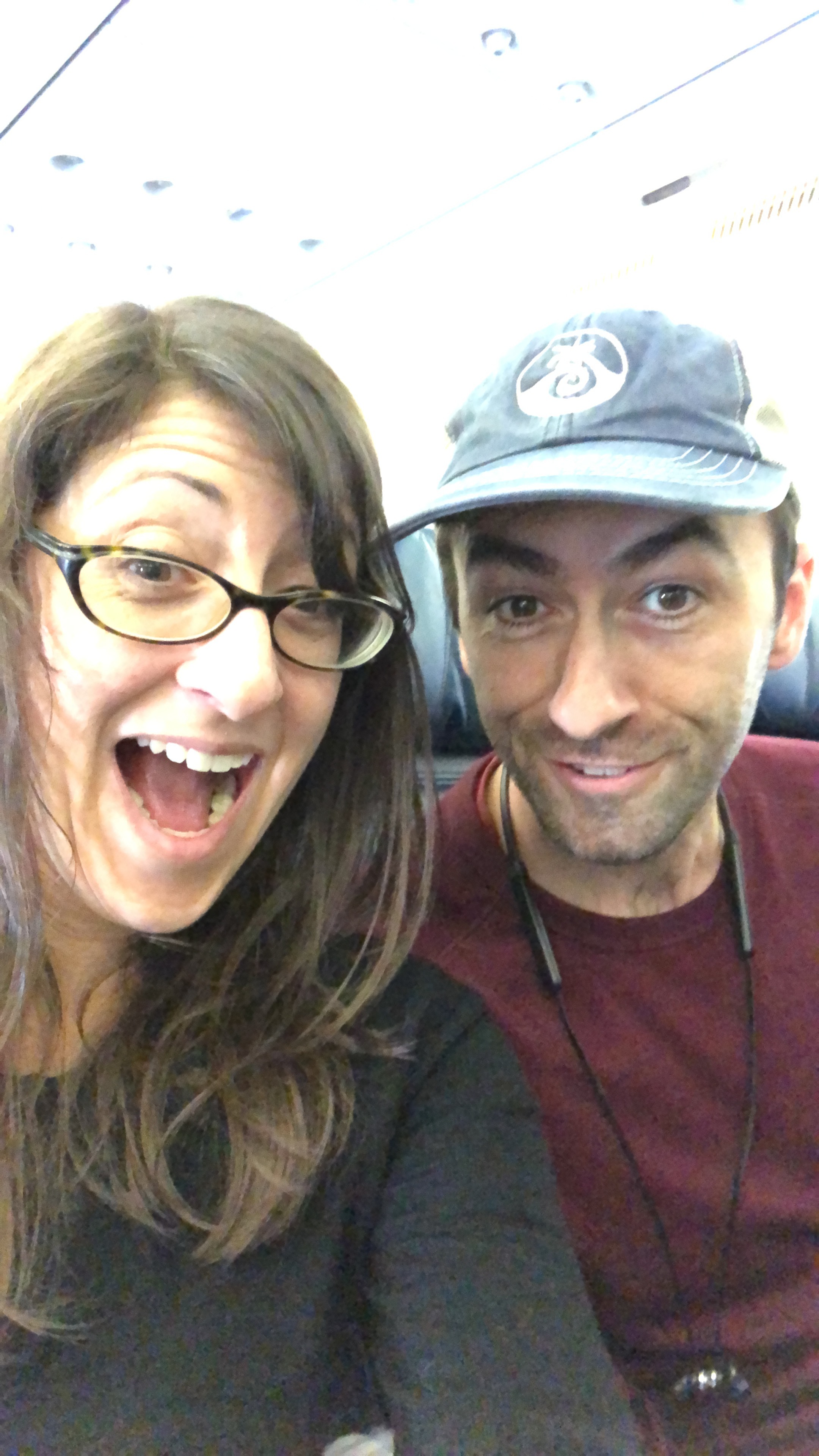 We're on the plane and ready for take off!
Little did we know we wouldn't actually take off for more than 24 hours…
When Friday April 5th finally arrived we were so excited. Carefully selected the items we'd bring so we could each have only one small bag. Traveling light! We got to PDX with ease, made it through security after Nick getting a pat down, and my bag being searched (all those emergency gluten free snacks look a lot like edibles on the x-ray!), but we made it on the plane and were thrilled that the seats beside us weren't taken, so we'd have some extra room on the flight to Amsterdam. Things were off to a great start… until they weren't.
We sat on the tarmac for four hours because of some sort of mechanical failure. I believe the captain actually said "we're stuck here because of some words on the screen that make it illegal for us to fly the plane." Not terribly comforting. After four hours they let us off to stretch out legs. I hit the bar for a stiff drink, and chatted with a fella from Amsterdam. As my second drink hit the bar, Nick appeared to tell me OUR FLIGHT WAS CANCELED! In that moment it truly felt like we were not meant to go to Europe. Ever.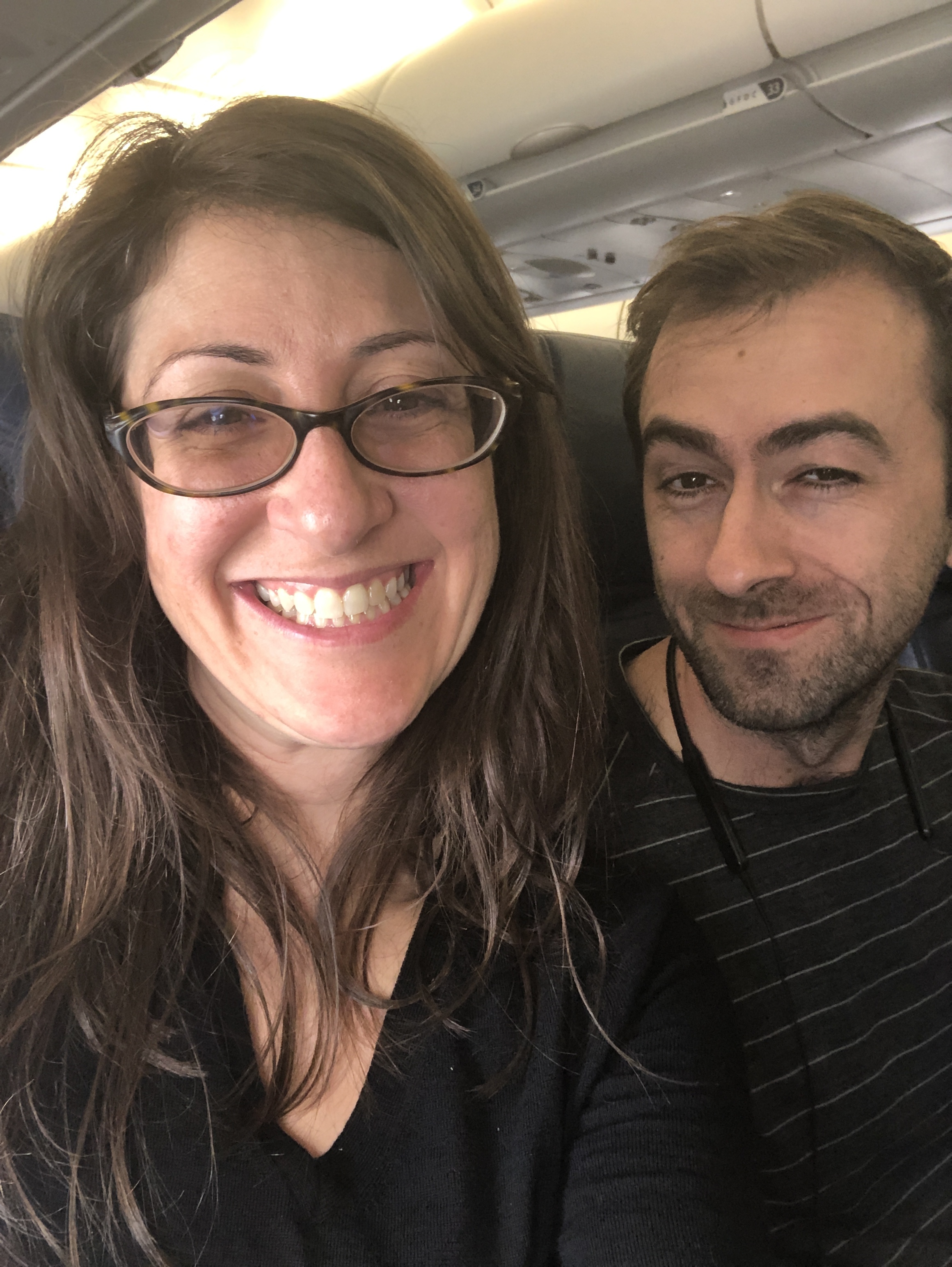 A little weary but still excited.
Take two on leaving Portland for Madrid.
We went home, slept, got up and did it all again. This time with a new layover in Barcelona and about 36 hours less of vacation time in Madrid. But the plane took off as planned and we were finally on our way.
Will Nick and Nicole make it to Madrid? What adventures are in store as they fly halfway around the world?
Stay tuned for part two of my European Adventure: Madrid